Welcome to Battlefields of the Pequot War!
By
admin
| October 23rd, 2009 | Category:
Blog & Media Center
,
Home
|
Comments Off

on Welcome to Battlefields of the Pequot War!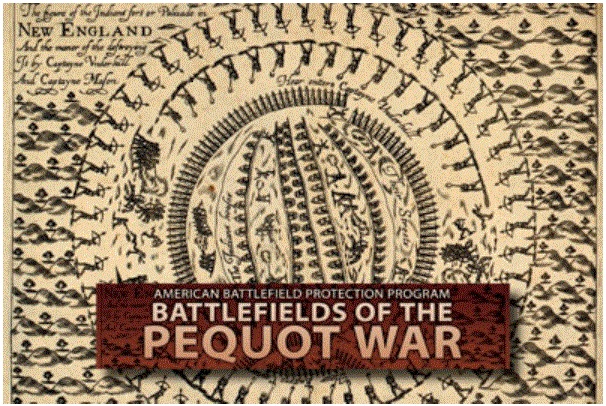 After more than 375 years, the Pequot War (1636-1637) remains one of the most controversial and significant events in Colonial and Native history of America.
The Mashantucket Pequot Museum and Research Center is identifying and preserving battlefields and historical sites associated with the Pequot War.
The primary goal of the Battlefields of the Pequot War project, with support from the National Park Service American Battlefield Protection Program, is the identification of battlefield sites and obtaining physical evidence through non-invasive archaeological investigations.
Partnering with the Office of the Connecticut State Archaeologist, the Connecticut State Historian, and local historical societies and museums, the Mashantucket Pequot Museum & Research Center has undertaken a comprehensive study to research all aspects of the Pequot War.
The Pequot War consisted of far more than the single attack (the Battle of Mistick Fort) by the Enligsh and Native allied forces on the Pequot fortified village (Mistick Fort) in Mystic, Connecticut on May 26, 1637. The war lasted for more than two years with major battles in Rhode Island, Connecticut, and New York. Indigenous people, including the Sasqua of Fairfield, the Quinnipiac of New Haven, the Western Niantic, the Mohegan, the Narragansett, the Nipmuck, the Wangunk, the Podunk and the Mohawk of New York fought both with and against the Europeans and the Pequot. The Pequot War was as much English vs. Native as it was Native vs. Native.
In 2006, the History Channel included the "Massacre at Mystic" as the first episode in its highly-acclaimed series 10 Days that Unexpectedly Changed America.
This material is based upon work assisted by a grant from the Department of the Interior, National Park Service.  Any opinions, findings, and conclusions or recommendations expressed in this material are those of the author(s) and do not necessarily reflect the views of the Department of the Interior.