Timeline
Pequot War Timeline
(ca. 1630-1640)
Scroll through the timeline below for a brief overview of the major battles and events of the Pequot War era.
---
Click HERE to check out our new interactive
A great tool for the student, educator, and historian alike!
1630-1632
Ca. 1630/1631
Pequot forces meet and defeat Connecticut River tribes on the field of battle three times.
Connecticut River Indian groups (Wangunk, Podunk, Suckiaug, Poquonnock, Tunxis) become tributary to the Pequot.
1630-1632
The Dutch in New Netherland Colony become close trading partners with the Pequot and their tributaries.  The Dutch and Pequot had maintained an exclusive trading relationship in which they exchanged European goods (trade cloth, metal tools, firearms) for wampum and furs.
 1633
 1633
The Dutch negotiate a treaty to settle on the Connecticut River with the Pequot.
Dutch construct the Huys de Hoop (Fort Hope) fortified trading post at Suckiaug.
September 26, 1633
English bypass Dutch at Good Hope. Windsor established. 
1634
 Winter – Spring 1634
Small Pox Epidemic spreads through upper New England and effects the Narragansett and possibly the Pequot.
Winter 1633 – 1634
Dutch – Pequot War is fought in the Connecticut River Valley.
Pequot and Narragansett battle periodically during this time.
January 1634
Captain John Stone, Captain Norton, and several crew members were killed by Natives.
It was later said that the killers were tributaries of the Pequot and at least one attacker was the son of the slain Pequot Sachem Tatobam.
Spring 1634
English settle Wethersfield (originally named Watertown).
October 23, 1634
Pequot envoys sent to Boston to open diplomatic relations with the English.
Pequot seek friendship and a trade alliance.
The English asked for more senior negotiators.
December 12, 1634
Pequot Ambassadors return to Boston to discuss an alliance.
The English agreed to peace if:
1) The Pequot delivered the killers of Captain John Stone;
2) The Pequot surrendered their right to the Connecticut River
The Pequot gave gifts of wampum, beaver, and otter in return for the English negotiating a peace with the Narragansett.
1635
 October 1635
John Winthrop, Jr. receives a commission from the Saybrook Company to be Governor of Connecticut.
November 1635
English from the Saybrook Company take possession of the mouth of the Connecticut River at Pasbeshauke. Construction of Saybrook Fort begins soon after.
1636
 Spring 1636
Work continues on Saybrook Fort.
April 1, 1636
John Winthrop, Jr. and Lt. Lion Gardiner arrive at Saybrook Point to oversee the settlement. Gardiner remains to oversee fort construction.
June 18, 1636
Mohegan Sachem Uncas send intelligence, or rumors, of an aborted Pequot attack on a Plimoth vessel. Uncas also blames the death of shipwrecked Englishmen on Long Island on the Pequot.
June 1636
English under Reverend Thomas Hooker establish Hartford (originally named Newtown) within sight of the Dutch fort.
June 1636
Warehouses are built by individuals from the Connecticut River towns at Warehouse Point, just north of Saybrook Fort.
Mid-July 1636
Massachusetts Bay officials return gifts given by the Pequot in the winter of 1634. Lt. Gardiner protests.
July 20, 1636
Captain John Oldham of Wethersfield is killed by Block Island inhabitants. The murder is discovered by Captain John Gallop.
August 20-30, 1636
Massachusetts Bay launches a punitive expedition against the inhabitants of Block Island.
The attack force led by Captain John Endicott consisted of ninety men, four officers, and two Natives.
August 25-26 was spent invading and ranging Block Island.
Endicott's force sailed to Saybrook Fort and remained anchored there between August 26-29. On August 29 a small group of soldiers commanded by Captains Endicott and Underhill sailed to confront the Pequot sachem Sassacus at the Pequot River, but he was on Long Island.
After several hours of failed negotiations English forces attacked and destroyed villages on both sides on the river.
Pequot War Begins
Late August / Early September 1636          Siege and Battle of Saybrook Fort begins
Pequot attack Saybrook garrison stationed at Cornfield Point
Three English wounded, one escaped captured.
A Blockhouse was abandoned and destroyed along with surrounding cornfields.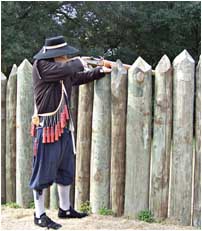 September – October 1636
Pequot unsuccessfully attempt to enter an alliance with the Narragansett.
Early October 1636
English attacked while gathering hay near Six Mile Island.
Two English wounded, one captured and killed.
October 21, 1636
The English and Narragansett enter a formal peace treaty and alliance.
October 24, 1636
Pequot and Western Niantic resolve to fight as one.
1637
February 22, 1637
Pequot forces ambush Lt. Gardiner, nine soldiers and two dogs of war on Saybrook Neck.
Three English soldiers were killed, three others wounded, and two deserted.
Surviving English forces fought their way back to the protection of Saybrook Fort.
Lion Gardiner was wounded multiple times by arrow fire.
March 9, 1637
Pequot advance on Saybrook Fort and Parley with Lt. Gardiner.
Several hundred Pequot approach Saybrook Fort.
Gardiner and Thomas Stanton speak with Pequot emissaries.
After the meeting the fort's cannon fire in the direction of the Pequot but no combat occurs.
March 11, 1637
The Connecticut River towns send Captain John Mason and six men to reinforce Saybrook Fort.
Early April
Massachusetts Bay send Captain John Underhill and twenty soldiers to reinforce Saybrook Fort.
April 17, 1636
Massachusetts Bay officials pressure Plimoth Colony to join the war against the Pequot. Plimoth Colony resists.
April 23, 1636
Pequot attack Wethersfield.
Nine English settlers are killed in the Great Meadow while at work. Two girls are taken captive.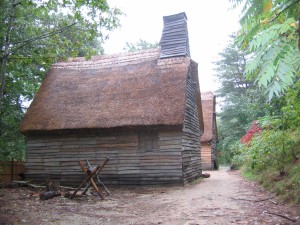 April 25, 1637
Lt. Gardiner orders the fort's cannon to fire on Pequot war canoes passing before the fort. The nose of the canoe carrying the captured girls is hit by the shot but everyone onboard survives.
May 1, 1637
Connecticut orders "Offensive War" against the Pequot.
The court at Hartford orders that 90 men be raised from the three Connecticut River towns for a campaign against the Pequot. The towns mobilize and the English garner support from Connecticut River Indian groups along with Uncas and his Mohegan followers.
May 1, 1637
Roger Williams provides a map of Pequot country to Governor Vane of Massachusetts Bay based on Narragansett intelligence.
May 10, 1637          Mistick Campaign Begins.
English Allied forces leave Hartford for Saybrook Fort. The three ships become wind bound and much of the Native allies disembark and march south to the fort.
May 12, 1637
Massachusetts Bay Colony seeks military assistance from Plimoth Colony in the war against the Pequot.
May 13, 1637
Narragansett send reports of Pequots fishing and planting around Long Island Sound. Miantaonomi marches to Boston and offers a plan of attack with would combine English sea power with Narragansett warriors in order to attack the Pequot along different points on the sound.
May 14-15, 1637
English Native allies under Uncas arrive at Saybrook Fort. Lt. Gardiner not trusting the Natives orders them to prove their loyalty by attacking a company of Pequot located on the eastern side of the Connecticut River.
The English Allied Native force attacks the Pequot the next day killing five and capturing Kiswas, a Pequot who had once lived at the fort prior to the war.
One English-allied Suckiaug Indian was wounded in the fighting.
May 17, 1637
Massachusetts Bay prepares an army for war against the Pequot.
May 18-19, 1637
English-Allied Forces set sail from Saybrook Fort for Narragansett Bay.
They remain in sight of shore to deceive the Pequot into believing that they were leaving.
The English ships arrive at Narragansett Bay Saturday evening.
Captain Mason and a small group meet with Narragansett Sachem Canonicous.
May 22-23, 1637
English Allied forces disembark and march to Miantonomi's village to discuss strategy.
May 24, 1637
English Allied forces march to an Eastern Niantic fort near the Pequot frontier.
English forces surround the fort so word of their presence does not reach the Pequot.
Massachusetts Bay reinforcements under Captain Patrick arrived at Providence too late to join Mason's men.
Miantonomi and around 300 Narragansett forces meet Captain Mason to join the campaign.
May 25
English Allied forces cross the Pawcatuck River and march to the head of the Mystic River where they encamped at a prominent rock feature known as "Porter's Rocks."
The combined English Allied force now consisted of 77 English, around 100 Mohegans and River Indians, and around 300 Narragansett and Niantics.
May 26, 1637          The Battle of Mistick Fort
At dawn English Allied forces surround the Pequot fortified village at Mistick. English soldiers form the surround the fort while Native allies form a second line beyond them. Two companies commanded by Captain Mason and Captain Underhill split off to storm both entrances.
Mason's company of 22 men is the first to enter through an northeast entrance.  After catching the Pequot off guard the approximately 150 warriors inside the fort organize an effective defense.  His company suffers nearly 50% casualties in approximately 15-20 minutes of combat.  As a result, Mason orders his men to set fire to the fort's weetu's.  He then orders his men to evacuate.
Underhill's company having a long distance to traverse arrives at the southwest entrance and storms the fort to find it already on fire. As the majority of Pequot warriors were now concentrated to the southern half of the fort Underhill's entrance was highly contested and his company of  also suffered nearly 50% casualties in around 10 minutes or less. Underhill also orders his men to set fire to the weetu's within the fort and evacuates his men to the outside.
English forces concentrate towards the southwest entrance while high winds drive the fire in that direction as well. Pequot warriors fought from within the forts palisade wall until the fire was too intense and then made one last desperate charge followed by non-combatants.  English forces indiscriminately killed all fleeing Natives and accidently wounded allied Natives as well.
Over a dozen fleeing Pequot were captured by English Allied Native forces. When the battle was over the English suffered two dead and twenty wounded while their Native allies had taken and undetermined amount of casualties.  With the exception of the few captured Pequot the defenders and inhabitants of the fort had died during the assault.
English Allied forces hold Pequot Hill for several hours and fight off three separate Pequot counterattacks until they see their ships in Long Island Sound.  Mason gives the order to march west to rendezvous with the ships at Pequot (Thames) Harbor.  As they prepare to march the main body of Pequot Warriors arrive from the primary fortified village at Wienshauks, some 300-400 strong.
For the rest of the day Pequot forces launch a series of coordinated ambushes, counterattacks, and feints in an attempt to destroy the English Allied forces.  After four miles of combat the fighting ceased and the English Allies were able to successfully reach their ship.  It is unclear how many casualties they suffered in the march but it appears that the Pequot lost another 100 to 200 fighting men killed and wounded in the battle.
 May 27, 1637          Mistick Fort Campaign Ends
English Allied Forces march west through Western Niantic lands on their way to the Connecticut River. They arrive there that evening and are ferried across the river to Saybrook Fort the next day.
May 30, 1637
Long Island Sachem Wyandanch visits Saybrook Fort
Knows of the destruction of Mistick Fort.
Negotiates with Lt. Gardiner and loosely allies with the English.
Early June
Pequot Council meets
Pequot leadership agrees to vacate their homeland.
Sassacus and around eight followers go west toward the Hudson River.
One hundred leave for Long Island.
Around seventy surrender to the Narragansett.
An unknown number of warriors went north to join with allied Nipmuc groups.
June 7, 1637
Plimoth Colony declares war on the Pequot and recruit a fifty-man company.
Ca. June 18, 1637
Three English killed and their shallop destroyed by Pequot forces around Six Mile Island.
One body floated down river and was recovered at Saybrook Fort.
The other two were found hanging from trees near the shoreline at the site of the attack.
June 19, 1637
Massachusetts Bay Captain Daniel Patrick, stationed at Saybrook Fort, captured two canoes of a number of canoes which the Pequot floated up the Connecticut River with goods needed during their western march to the Hudson River.
July 5, 1637
Narragansett forces capture around 100 Pequot in a swamp in present-day Ledyard.
Massachusetts Bay forces under Captain Patrick secure the prisoners and execute the fighting age men.
The women and children are sent to Boston.
July 6, 1637
First major rift occurs in Massachusetts Bay – Narragansett Alliance.
Roger Williams lists numerous Narragansett grievances and complaints regarding land, corn, and captives.
Massachusetts Bay commanders do not trust the Narragansett and complain about their efforts to control former Pequot tributaries.
July 10, 1637          Pequot and Narragansett Battle in Northeastern Connecticut
The Pequot and their allies, the Wunnashowatuckoog, battled the Narragansett and their Nipmuc allies somewhere in present-day northeastern Connecticut.
It resulted in a Pequot defeat and Roger Williams reports several killed and many wounded.
The survivors fled towards Quinnipiac to rendezvous with Sassacus.
July 7, 1637          The Quinnipiac Campaign Begins
English Allied forces (80 Massachusetts Bay, 20 Connecticut, unknown Native allies) sail from Saybrook Fort for Long Island in search of Sassacus.
A Long Island sachem provides intelligence that Sassacus had left for Quinnipiac.
An unknown amount of Long Island warriors under Wyandanch joined the English Allied attack force.
July 9, 1637
Native Allied forces make landfall around present-day Guilford and captured four Pequot including two sachems.
One sachem was beheaded and this neck of land still retains the place-name "Sachem's Head."
July 10-11, 1637
English Allied forces make landfall and scout around Quinnipiac.
July 12, 1637 
English Allied forces march west in pursuit of Sassacus and his followers.
July 13-14, 1637          Battle of Munnacommock Swamp
English Allied forces encounter limited fighting after crossing the Housatonic River.
Sassacus and a bodyguard of twenty left the main body of Pequot and began a northwestern journey towards the Hudson River.
Later in the day of July 13 English forces locate the main group Pequot at a Sasqua village near a large swamp.
As Native peoples fled to the swamp for protection English Allied forces attempted to surround the swamp.
Fighting occurred throughout the afternoon and into the evening with only a brief cease-fire which allowed non-combatants to surrender.
Early in the morning the next day Pequot forces launched a diversionary attack on one part of the English line and when soldiers responded it opened large gaps in the siege line which allowed nearly all of the Pequot warriors to escape.
Several English were wounded and the Pequot suffered less than twelve casualties.
July 21, 1637
The Wangunk enter the war as English allies and capture a group of Pequot and a sachem on their way to Mohawk country.
August 1, 1637
Manisean Indians of Block Island submit to the authority of Massachusetts Bay to avoid a second possible invasion.
August 5, 1637
Evidence of Sassacus' death is brought to Boston.
Sassacus and his bodyguard were attacked and killed in late July 1637.
Mahican warriors may have been behind the attack.
The first attack occurred near present-day Danbury, Connecticut.
Sassacus and the survivors may have been intercepted and killed at present-day Dover Plains, New York. 
August 26, 1637
Massachusetts Bay soldiers leave occupied Pequot country and return to Boston.
November 10, 1637 
Roger Williams reports that the Pequot are subdued.
November 20, 1637
Massachusetts Bay asserts right and title to all Pequot lands between Quinnipiac and Pequot and beyond toward Dutch New Netherland.
This will mark the continuation of land disputes between Connecticut and Massachusetts Bay which will last well into the Eighteenth Century.
1638
 March 21, 1638
Edward Howes writes to John Winthrop and mentions that he read the relation of the fight with the Pequots in print.
Copies of Philip Vincent's narrative and / or Captain John Underhill's account are already being read by Puritan readers.
March 30, 1638
Settlers from Massachusetts Bay establish the English town of New Haven at Quinnipiac.
August 1638
Captain John Mason leads an English and Mohegan force against a Pequot and Eastern Niantic village on the eastern side of the Pawcatuck River.
Claim that it is an illegal settlement of Pequot refugees.
The settlement was destroyed and several Natives were taken prisoner.
May 27, 1638 
Claims by Roger Williams that Pequots are being sheltered by Mohegan and Eastern Niantic communities.
June 7, 1638
Mohegan and Eastern Niantics argue over Pequot captives.
July 5, 1638
Eastern Niantic Sachem Ninigrit leads an attack force of 80 warriors against Long Island groups. Twenty of which were described as "Pequot Captaines."
September 20-21, 1638          The Tripartite Treaty
English, Narragansett, and Mohegan leadership gather at Hartford to negotiate the Tripartite Treaty, more popularly known as the Hartford Treaty.
The treaty attempted to establish the English on the Connecticut River as the new Sachems of the region who would mediate native disputes.
It assigned Pequot captives to the Mohegan and Narragansett.